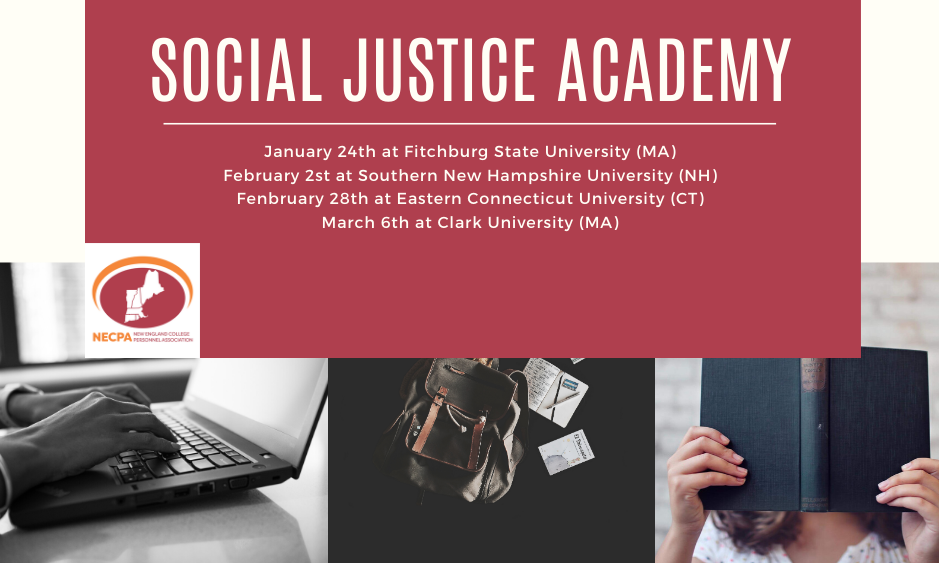 "Social justice work addresses inequality and oppression in all its nuances, including but not limited to, racism and xenophobia, classism and economic discrimination, sexism and misogyny, homophobia and heterosexism, religious and political persecution, the abuse of civil liberties, and ableism."

(p. 7, Journal of Critical Thought and Praxis 2017, Vol. 6, No. 1, 68-63)
What is the Social Justice Academy?
Inspired by the ACPA Strategic Imperative for Racial Justice & Decolonization, The Social Justice Academy is designed to bring together Higher Education professionals to learn about and promote a deeper level of social justice standards, enhancing and refining our skills and competencies to create greater inclusion for all members of our campus communities and beyond.
Details:
All participants must read The Master's Tools Will Never Dismantle the Master's House by Audre Lordes
The Academy itself will consist of 4 in-person workshops around New England; session topics are available at //bit.ly/2YQCkFz. Each session is scheduled from 10AM – 3PM and includes lunch.
January 24 at Fitchburg State University (MA);
February 21 at Southern New Hampshire University (NH);
February 28 at Eastern CT State University (CT);
March 6 at Clark University (MA)
Goal and Outcomes:
Full and equal participation of all groups in society and the ability to know when not practiced in society.

The Social Justice Academy will:
Provide opportunities for participants to explore social identities;
Develop knowledge around social justice;
Build a deeper understanding around privilege and how it plays a role in society and;
Foster opportunities to become a change agent on our campuses.
Objectives:
Preparing participants with a foundation of skills and knowledge, including the capacity to:
Evaluate self-awareness and acknowledgment of personal social identities and the ways their identity impacts society;
Interpret the history of oppression and examples of social injustice;
Understand the dynamics of privilege and differential access to power and access based on perceived social identity; Race, Gender, Sexual Orientation, Physical & Mental Ability, Ethnic Heritage, Social Class, Religion and Belief (note that this list is not exhaustive);
Recognize and use all aspects of the Racial Justice and Decolonization Framework and;
Apply what is learned to create socially just campuses.
Registration
Registration fees are $90 for NECPA or ACPA members, $110 for non-members
With many thanks to our co-sponsors