Meet our 2015 MCPA Award winners! 
Academic Excellence Award
Amma Marfo
Assistant Director of Student Activities, Involvement and Assessment, Emmanuel College
Nomination:
Amma is a voice for the Introvert because none of us are speaking. She has done numerous presentations, written articles, and authored two books on Introversion, particularly within a Student Affairs scope. "The I's Have It: Reflections on Introversion in Student Affairs" and "Light it Up: Engaging the Introverted Student Leader" are useful, practical, and engaging forays into introversion for anyone working in higher education, extroverts and introverts alike.
Both books use a combination of research and personal experience to convey the experiences of Introverts, and guide the reader on working with introversion, either within oneself, or with colleagues/students. Amma has included the experience and research of many Student Affairs professionals, from brief anecdotes to full-scale chapters, all with an inviting format, making it easily accessible to the reader. Her focus is in "honoring and capitalizing on their introverted nature" (from the description of "Light it Up"), and both books, as well as her articles and blog posts, do just that.
Amma is an exemplar of academic excellence because she shows the common Student Services professional that one does not need to pursue a PhD, or work in a scholarly setting to contribute to the field.
Spotlight:
When you aren't working, how do you spend your free time?
Since I've won this award, my working life looks much different- as a "Free Agent" in the field now, my days, nights, and weekends look so different from what they used to look like! With that said, I love to spend the days I have to myself reading, watching movies, and going to comedy shows or writing comedy sketches. Making space to laugh is so important to me, and I like to surround myself with those things as often as possible.
What is the most valuable lesson you have learned in your career (so far)?
Surround yourself with good people- whether it's ensuring that you work somewhere that has coworkers you like, or ensuring that your "after-work" hours are filled with friends and family who are supportive and caring, I've realized that he better the people around you are, the better you are.
What advice would you offer to new professionals who are starting their first professional position?
Explore. You may have an idea of what you like to do based on undergraduate experiences, an assistantship, or an idea of what you've seen others enjoy. But take as many opportunities to learn as you can. Whether it's joining a committee, advising a student organization, or even attending classes or events at another institution, you never know what you'll be good at or what you'll be most helpful in until you try.
Access and Inclusion Award

Rosanna Reyes
Dean of First Generation Students, Williams College
Nomination:
Rosanna Reyes came to Williams a few years ago. Since her arrival she has turned a culture of worry and shyness around being a First Generation student, into a culture where it has become a point of pride for our growing first generation student population. Her efforts in creating relational bonds, training, and programming that embraces, raises up, and advances the lives of both first generation students and those they engage with has been not only integral to campus, but inspirational to peers both on campus and off. She is a rockstar for inclusivity and a driving force for positive change for all students.
Spotlight:
What do you love about most working at Williams College?
There are various reasons why I love working at Williams College. I believe that the college provides students, faculty and staff with an engaging and forwarding-thinking environment. I have been able to create and oversee some amazing programs to support our students.
Who inspired you to get involved in Higher Education?
I was first exposed to the field of higher education as an undergraduate student at Rutgers University. I was part of the Educational Opportunity Fund Program and was fortunate to have a few mentors that worked for the program. I was inspired by their commitment and passion to help underrepresented students successfully graduate from college.
What advice would you offer to new professionals who are starting their first professional position?
I think it is critical to be self-reflective and stay true to yourself. Often we are attracted to work that seems interesting and flashy but does not always end up being fulfilling. I believe that much of my success has been due to the fact that my work is extremely important to me not only professionally but because it is also my passion.
Accomplished Leader Award
Griffin Labbance
Residence Director, Massachusetts College of Liberal Arts
Nomination:
Griffin Labbance is a prime example of what a leader in a residence life position can do for both their small community and the broader community. Through his time working at MCLA he has risen to the top as a mentor and leader to his peer RDs, as well as to the dozens of RAs he has advised and role modeled for over his time at the college. His friendly demeanor and easy approachability make him a natural for other colleagues to want to work with, and his ability to prioritize and think beyond the boundaries of what a residence area can be has helped to improve the culture of residence life. Beyond his work in higher education, he also models what it is to be a member of a global community. He regularly participates in fundraisers for various causes that he holds close, and inspires others to do so as well. His civic duty exemplifies the type of leader he is, and combined with his work in residence life make him a superb candidate for the Accomplished Leader Award.
Spotlight:
What do you love about most working at Massachusetts College of Liberal Arts?
It may sound like a short answer but it is simply a welcoming place to work. We have a small community, but a connected community. I know that I can get on the phone at any time and call anyone on campus for assistance and they'll be more than willing to help. Students are not only known by their professors, but they are supported by them as well in and out of the classrooms. This creates a community of individuals who are excited and eager to learn, and a student body of students who are driven to succeed in the classroom and out.
And I can't forget about the location. Being at the base of Mount Greylock is a spectacular place to live. North Adams is vibrant and a fun town to live in. While we aren't located right near Boston, we find Albany and Springfield two close cities nearby.
When you aren't working, how do you spend your free time?
I had to think about this for a second because sometimes it feels as though we are always working. When I can get away for a few minutes, I enjoy running and biking in the area. We have a very bike friendly community and locations for runners to go where they don't have to compete with cars and traffic.
Who inspired you to get involved in Higher Education?
I was an Elementary Education major during my undergrad and at the time, I couldn't see myself doing anything but teaching. At the same time, I was having an amazing experience serving as an RA. After spending a year in a third grade classroom, I found my strengths to be much stronger working within my RA position.  I had great support from my hall director at the time and took a leap to apply for RD jobs. I haven't looked back since. While I miss being in the classroom, I love the form of education folks in Residence Life are able to provide.
What is the most valuable lesson you have learned in your career (so far)?
I have learned that we all need to stop and pick up the pieces that we have dropped along the way. If we keep going and don't bother to pick them up, yes we move forward, but we move forward while leaving something behind. I had some belief that when I made a mistake on something, it reflected my overall ability within my position. What someone told me was that it wasn't the mistake that was reflective of my ability, it was how I got up and moved on. The fact is, we all make mistakes. Maybe it isn't such a bad thing to pause when one happens, rather than try to get up as fast as we can and move on.
What is on your Higher Ed bucket list?
I have truly enjoyed networking regionally and nationally at conferences and events. I sat on a regional board as a student, but haven't served on a board of committee for a group as a professional. I have seen what a value networking has as a conference/program attendee, which is why I know taking the next step will be even more rewarding.
What advice would you offer to new professionals who are starting their first professional position?
Look forward to the future, but don't forget who helped you get to where you are. We all have various individuals who have allowed us opportunities, trusted us with tasks and given us advice to support in our growth and development. My suggestion to new professionals is to use all of that in their own experience and know that they will be this support for someone they work with. Like most, my family helped me for the obvious reasons. My 6th grade teacher helped to show me that learning takes many different forms and success isn't like a good test grade. My RD my freshmen year who came to my door to hand me an RA application when I know I wouldn't have gone out to get one, and my two RDs who supervised me while I was an RA who helped me to see my strengths and use them to help others.
Graduate Student of the Year Award
Kevin Long
Assistant Resident Director, Wentworth Institute of Technology
First Nomination:
It is with great pleasure that I nominate Kevin Long for the MCPA Graduate Student of the Year Award.  Kevin is on track to finish his Master's of Education in Higher Education in Student Affairs from Salem State in May 2016. Kevin joined the Housing and Residential Life office at Wentworth Institute of Technology in the summer of 2015 as an Assistant Resident Director. This position is a new addition to the Housing and Residential Life office at Wentworth, and Kevin has been an outstanding addition to our team. Since arriving to Wentworth Kevin has presented himself as an eager, passionate, and hard-working young professional. Kevin is getting a traditional residence life experience and is wearing many different hats in his role, serving in a professional staff duty rotation, as a hearing officer in our conduct process, co-supervising Resident Assistants, working through student issues and concerns, as well juggling many other initiatives. Kevin's dedication to his position and passion for student affairs has been very impressive. Kevin recently was shadowing in our professional staff duty rotation when he was asked to respond to a particularly difficult student concern and assist in delivering very difficult news to a student.  The level of poise that Kevin showed during the incident was impressive, as was his level of concern for the student involved. In his short time on the Wentworth campus, Kevin truly has made an impact. Kevin got involved with our Student Experience Diversity Committee on campus and joined the Safe Space subcommittee.  Kevin worked with a colleague on campus to plan a great event celebrating "National Coming Out Day" where students signed a copy of our "Leopard's Oath" (a commitment to the values of our community), celebrating our LGBT community, all in an effort to increase inclusivity on the Wentworth campus. Kevin also taught First-Year Seminar this fall, another way he was able to positively impact our first-year students. Kevin is a caring, dedicated, and passionate young professional with a bright future ahead of him in higher education. He is an extremely worthy candidate for this award and we're grateful for the many contributions he has made on the Wentworth campus.
Second Nomination:
It is my pleasure to nominate Kevin Long for the Graduate Student of the Year Award. Kevin is the Assistant Resident Director of a 500-first year area community and has jumped right in and exceeded all expectations so far in his role.  Kevin works with the largest staff on campus in conjunction with a full-time Resident Director and has taken full advantage of this newly created position. He inspires me with the quality of his work and his passion for the field of higher education is contagious. He is currently in his second year of the Student Affairs program at Salem State and works 40+ hours in the office (he is only required 30).
Kevin has jumped in to the professional staff duty rotation and already experienced a handful of tough and sensitive issues to deal with. He has a natural sense of care and support working with students and his dedication stands out to all who work with him.  He has strong relationships with students and staff and is one of the most focused and hard working professionals I have worked with. Additionally, Kevin has been an active member of the BACHA RA Conference planning committee, taking initiative in securing a keynote speaker and helping create the program pamphlet.
Kevin is very innovative and creative. He began working at Wentworth in June and jumped right in to teach a first year seminar course this semester. In addition to utilizing the prepared materials, Kevin created his own materials in order to have a more engaging and thoughtful class discussion with his first year students. For example, during the Time Management week, Kevin put a spin on the class and tied in a budget activity in order to help his class get comfortable working with a budget, something that was not required but that Kevin saw a need for. He created a handout with characters doing activities such as getting 8 hours of sleep, spending time with friends, eating healthy, etc. and each character had a matching amount associated with their activity. First year students were given a specific amount to "spend" and had to allocate their most important priorities without going over the budget. This activity helped students realize they needed to prioritize their time and also had them work with a set budget.
Kevin has fit in very well with the Office of Housing and Residential Life staff and has continued to impress us with his strong skills, articulate use of inclusive language, and thoughtful feedback on student concerns and needs. He has also jumped in and joined the Diversity Committee made up of faculty, staff and students and has been wonderful at sparking dialogue and continuing to work on diversity issues.
Please take Kevin into consideration as the 2015 Graduate Student of the Year as I have never been so impressed with a graduate student in my time in the field so far. I would be happy to have Kevin receive this honor and I look forward to seeing what he accomplishes in the field!
Spotlight:
What do you love about most working at Wentworth Institute of Technology?
I truly value the innovative and dynamic nature of our students here at Wentworth. They are constantly working on projects and inventions that will undoubtedly change our world. It is fascinating to have conversations with students who are working on some complex and intricate designs – be it building designs, product designs, or engineering concepts. I'm so humbled to be able to facilitate the growth and development of the leaders of tomorrow.
When you aren't working, how do you spend your free time?
I am currently enrolled in a graduate program at Salem State University, and any free time I have is dedicated to exploring the Boston area. I grew up in a suburban, sleepy town where not much happened, so I love taking the time to see the sites, find new restaurants and coffee shops, and soak in the Boston culture. I also try to stay in shape by running and am working on training for the 3rd half marathon right now!
Who inspired you to get involved in Higher Education?
My soon-to-be sister in law has been an active presence in my life for many years now, and seeing all that she did was a driving force that led me to believe that I, too, can have a lasting impact on a student's college experience. My college experience was very much focused on getting involved in various clubs and positions, which soon became a crucial part of my own identity. Armed with a communications degree and no real sense of how I wanted to apply what I learned over four years of classes, I went back to basics and thought about what made me happiest: needless to say, it was my hectic schedule where I was able to make a difference in my community. Now, I am able to do that as a professional staff member!
What is the most valuable lesson you have learned in your career (so far)?
I have learned the significance of meaningful work relationships. I have thrived and made an impact in environments where there were positive relationships and mentorship. I take great pride in developing meaningful interactions with my students and colleagues; I truly believe that in order to break past the idea of higher education simply being a "job", we must actively work to cultivate and maintain relationships that are both productive and long-lasting. Wentworth has served as a notable area where relationships are crucial, and collaboration is not only valued, but expected of each professional.
What is on your Higher Ed bucket list?
I would love to make a meaningful contribution to lessen the plight of students with disabilities, as they tend to be ignored and pushed aside when discussing the needs of our ever-diverse students. I am not entirely sure what this would look like, but integrating inclusiveness for students with disabilities is a crucial aspect for why I entered higher education in the first place. I have focused much of my research work in my graduate program on the history of students with disabilities, and how we can best support them in an ever-changing climate.
What advice would you offer to new professionals who are starting their first professional position?
Find someone both inside and outside of higher education who believes in you and your ability to excel, while also challenges you. Hold onto these people and utilize their presence, their positivity, and their strength to lift yourself up when you need it the most. Feeling like an "imposter" and "underqualified" at times is to be expected, but surrounding yourself with those who offer that pushback and perspective is crucial!
New Professional of the Year Award
Kelly DeSisto
Resident Director, Wentworth Institute of Technology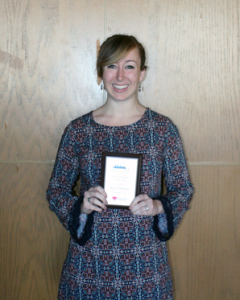 Nomination:
It is my pleasure to nominate Kelly DeSisto for the New Professional of the Year Award. Kelly has been a Resident Director at Wentworth Institute of Technology for a year and a half and has made a great impact and connections with faculty, staff and students during her time. She is by far the most positive person I have ever met and it is a joy to work with her. Kelly's work ethic and dedication are what makes her stand out as she is one of the most hardworking and driven individuals I have had the chance to work with. She has a contagious positive attitude and a fun, lighthearted spirit as well as a drive and passion for the field of student affairs.
In her time at Wentworth, Kelly effortlessly opened up a brand new building in the fall of 2014 and was patient with roadblocks and delays that arose. She opened up the building and flawlessly solved issues that came up, all with a positive attitude, maturity and strong communication skills. Kelly has a natural ability to lead others and her staff members adore her. She has established strong connections with each member and they are always looking for an opportunity to receive "Kelly points" and go above and beyond in their position. Kelly also has joined many committees on campus, including but not limited to the Diversity Committee and the Learning and Development Committee. Within the diversity committee, Kelly became a chair of the Safe Space subcommittee, co-facilitating sessions on gender and sexual diversity trainings.  In the learning and development committee, Kelly has used her knowledge and creativity skills to bring new ideas and development opportunities to the professional staff within the division of student affairs.
Kelly additionally was nominated and joined a professional organization after starting in her position, serving on the Boston Area College Housing Association (BACHA) board. She was a member-at-large and her first role in BACHA was to plan the New England Student Affairs Placement Conference (NESAPC) this past summer. There was a record amount of professionals present and she effortlessly solved minor issues throughout the two day event and greeted every candidate with enthusiasm that easily calmed their nerves. After the conference completed, Kelly jumped on another initiative, co-planning the BACHA RA Conference taking place in November 2015. The RA Conference is BACHA's biggest conference and initiative of the year and Kelly spent many months preparing and planning the conference. She established a committee of about 15 professionals in the area and has worked effortlessly on details and logistics pertaining to the conference. Kelly is always quick to recognize others' work and constantly thanks those who are working on initiatives and projects with her. She is smart, humble, and supportive and her colleagues and peers are thankful to have an opportunity to work with her.
Everything Kelly works on oozes with energy and enthusiasm and if anyone has had the pleasure to work with her, they know that she will go far in the field. It's an honor to have her as a colleague, friend and peer and she absolutely deserves to be recognized as the New Professional of the Year.
Spotlight:
What do you love about most working at Wentworth Institute of Technology?
The aspects of my job that I love most include the collaboration with students, campus partners, and my colleagues within the Division of Student Affairs. I have had the honor of working with and aiding in the development of brilliant individuals and for that I am so thankful. The discussions regarding progression, social justice, and making the community a safer and more welcoming space would not be possible without the amazing students, staff, and faculty that I see each and every day.
When you aren't working, how do you spend your free time?
When I'm not working I typically fill up my time running, exploring Boston, visiting Maine, and spending time with my partner Ike and our dog Alfred.
Who inspired you to get involved in Higher Education?
It is hard to determine just one person that inspired me to be a part of higher education. I would have to say that my overall experience at Emmanuel College along with the many interactions with practitioners at that institution and the student leadership opportunities I was fortunate to obtain allowed me to find my passion and drive for student affairs and higher education.
What is the most valuable lesson you have learned in your career (so far)?
I would have to say that the most valuable lesson I have learned is that I am and will always be a student. Each and every day, I should be learning from the interactions I have at work along with the discussions that I delve into revolving around social justice and inclusion. We should never assume that we have learned everything or are ever the experts of our craft in this field – with so many new and dynamic individuals and tasks that come our way, I always make sure to expect the unexpected and it is one of the greatest aspects of my career.
Outstanding Program Award
Anne-Marie Kenney
Dean of Student Affairs, Newbury College
Nomination:
Program  – Newbury First – This program was implemented after looking at our first generation first year numbers which were alarmingly high. What could the College do to support over 60% of the student population?
The NewburyFIRST program for first generation college student aims to provide overarching academic, social, and interpersonal development support for transitioning first year students.
This program, no more than 25 students in size, would run bi-weekly for the entire 2014/2015 academic year with a strong focus on identifying student strengths in the hopes that these strengths:
Goal 1: support academic and personal confidence
Goal 2: enhance understanding of and access to campus resources,
Goal 3: enhanced satisfaction in college life
Goal 4: ultimately result in larger 1st to 2nd and 2nd to 3rd semester retention.
Utilizing GPA data, all students who completed the program saw a increase in their GPA from high school. Over 80% saw over a 1 point jump in their GPA.  (See data above)
All students who completed the program engaged in activities outside of the classroom
2 serve as Orientation Leaders
3 serve as peer mentors
1 started a new club, which was recognized as Club of the Year
1 is co-president of a club
4 completed the Leadership Academy Program
4 were inducted into Phi Eta Sigma, The National First Year Honor Society-1 is serving as the Club's secretary in her sophomore year
1 is now a math tutor
All 6 who completed the program were registered and completed their second semester
All 6 who completed the program are registered for their 3rd semester.
What do you consider the major successes
Students who participated talked about greater social and academic confidence
"…having someone believe in me has made all the difference. "
Students were able to talk about their strengths.  Experiences once viewed as challenges or deficiencies were as points of pride and advantage.
Greater connection to people and resources on campus.
Peer cohort support. Students in the group see themselves as a family. They often sought each other out for advice and help.
Students want to continue the program and serve in mentorship role.
3 of the students who completed the program presented at the Class Action's 3rd Annual First Generation College Student Summit: Exploring the 1st Gen Identity. The session was titled: "A Voice of Strength-A foundation for first generation college student support.
Spotlight:
What do you love about most working at Newbury College?
I love being able to interact with our hard-working and energetic students. I also appreciate working with a team of colleagues who genuinely care about the well-being and holistic experience we are able to provide for our students.
When you aren't working, how do you spend your free time?
Trying to finish a dissertation, watching lots of New England Patriots football, and traveling.
What is the most valuable lesson you have learned in your career (so far)?
If you want to do the best and be the best, you need to know more than you currently know.  So read voraciously and stay current in issues and trends beyond your current area.
What is on your Higher Ed bucket list?
Teaching and publishing
What advice would you offer to new professionals who are starting their first professional position?
You should err on the side of saying yes to opportunities that will challenge you and give you experiences you don't currently possess-opportunities sometimes don't come back around. I can say with certainty that those early experiences unknowingly positioned me to confidently expand my scope of responsibility. Also take advantage of early professional experiences to truly collaborate with areas outside of student affairs. The best senior leaders I know are well-versed in areas around higher education enrollment, advancement, and finance.
Outstanding Service to MCPA Award
John Mayo
Assistant Director of Residence Life, Newbury College
First Nomination:
I'm pretty sure one of the main "words" in John Mayo's vocabulary is MCPA.  When he's not completely involved in his work at Newbury, he's finding ways to better MCPA and connect members with the organization.  Just from being around him when he's working on organizational projects, you can see how much he truly cares about MCPA; going over every detail meticulously, reaching out to other board members, asking general membership their thoughts and trying to find ways to make them feel a part of the organization.
I've talked with many colleagues outside of Newbury and MCPA about the organization before I decided to join myself last year.  One constant name that came up was his as a person to reach out to for a resource about MCPA.  Luckily, he's constantly at my disposal working in the same department so I was able to really get his view about the organization, and it was obvious he loved it and was dedicated to the work and change that MCPA was trying to achieve.
I've seen a lot of people dedicated to organizations before, but it seems like MCPA has really become a part of who John Mayo is, beyond just being a member of the executive board.  He really takes this organization and what it does to heart and tries to get others to see the value and enjoy the experience along with him.  In the end, isn't that really the definition of "Outstanding Service"?  Giving your all to something and hoping it effects others.  Because if it is, John Mayo is the personification of it.
Second Nomination:
It isn't his presidency that fills his resume of service for the award, but his resume of service that made him so fitting for the presidency. Prior to becoming President, John served on conference committees, chair the Administrative Professionals conference, edited our newsletter- in the best-looking editions I have seen, wrote numerous articles when there weren't enough to fill the pages, nominated individuals for awards, mentored our new professionals, and presented at our conferences. Just because his current position as President honors all of this service, does not mean that we, as an organization, should stop honoring John for his commitment and time spent investing in us.
John ran for President because he had a vision for us. He wanted to make sure our 40th anniversary was a memorable one, and he spent his time as President-elect, coordinating our Ruby Year efforts. During his Presidential year so far, John has most notably led the drafting of our proposed by-laws which hopefully will set this organization up for another memorable 40 years. John has honored our past, is leading our present, and is preparing for our future. His commitment has been, is, and will be outstanding, though I can't think of a better year to recognize him than right now.
Spotlight:
What do you love about most working at Newbury College?
The students!  I love the students that I get to work with at Newbury College.  They are hardworking and dedicated students, especially the student leaders.  Most of our students are paying their own way for school, so they are not just attending class.  Most attend class, are in a club or sport, and work more than one job.  They are truly an inspiration to me.  I try to make sure that I work hard for them, so that they get a quality experience at Newbury.
When you aren't working, how do you spend your free time?
I love hanging out with my family (my wife and dog.)  I also enjoy going to the movies and watching TV.  I'm an introvert, so I like to enjoy a lot of me time.  I'm also a huge gamer, but not just video games.  I love all games, Card games, board games, dice, games, and video games.  I'm happy playing Monopoly, Go Fish, or a computer game.  I'll even play charades.
Who inspired you to get involved in Higher Education?
I was inspired to get into the field when I was an undergraduate at Bridgewater State College.  Like many other Residence Life professionals, I was an RA and a student leader.  I had many mentors at Bridgewater, especially Beth Moriarty, Shelly Keniston, Cindy Kane, Rita Camara, and Joe Amato.  Rita and Joe taught me a lot of what I know about housing operations!  I originally went to college to become a high school teacher.  I eventually learned that I could make a career out of helping college students.  So I learned a lot as an undergrad and decided to pursue a Master's in Student Affairs.
What is the most valuable lesson you have learned in your career (so far)?
It's OK to make mistakes, just learn from them.  All too often we are afraid to make mistakes, which actually leads to making mistakes.  I was like that in grad school and as a new professional.  I was afraid that if I made a mistake that my supervisor would think that I couldn't do the job or that I wouldn't be looked at favorably.  It turned out that by worrying about making a mistake in a project, it would sometimes lead to a mistake or worse no creative problem solving.  I had a bunch of really good supervisors early on that encouraged me to take chances.  They reminded me that it was OK to make a mistake, but that I needed to be sure I learned from that mistake.  So, remember it's OK to make a mistake, just be sure you own it and apologize for it and learn from it.
What is on your Higher Ed bucket list?
I think I would really love to teach in a graduate preparation program.  I also would like to be elected to an ACPA leadership position at the national level.
What advice would you offer to new professionals who are starting their first professional position?
I could probably fill a book about advice I would give to new professionals.  But the number one piece I will give right now, find a friend or a mentor outside of your home institution.  This person will come in handy when you need advice, a sounding board, or someone to vent too.  I've always found having a third party to give you an honest option helpful.
Pillar of Mentorship Award
Kevin Piskadlo
Dean of Students, Stonehill College
Nomination:
Kevin Piskadlo is an admirable Student Affairs professional.  He transitioned into his role from Academic Affairs around two years ago, and has continued the work of creating an inclusive, welcoming environment that the Dean of Students office has begun at Stonehill College.  His passion to mentor spans the entire breadth of our institution and beyond.
In his role, I have seen Kevin bend over backward to assist students in need.  Whether it's providing his phone number to a student who is struggling, or attending a student event to show his support for their passions and initiatives, Kevin is fully present in his role as the Dean of Students.  As a Dean of Students, he does a great job of being visible across campus, even joining us daily in the dining hall to eat lunch with students and professionals.  He also engages with our students through social media and is an active Twitter user, always helping students know what is going on at our campus.
In addition to his work with students across our campus, Kevin supports our Student Affairs professionals at Stonehill College in many ways.  First, his door is always open, regardless of the day or time, for one of us to walk in and chat if we have a student of concern that we need his advice about, a chance to talk about other opportunities we're exploring, or just life.  Still being relatively new to the New England area, I know that if I ever have a question about Boston, or professional involvement, or am just looking for advice, Kevin is happy to spend time to talk.  Kevin is even working to plan a Student Affairs Development Day in January for Stonehill College professionals to help develop themselves and each other to push further, learn more, and serve our students and ourselves better.
In addition to his work on Stonehill's campus, Kevin serves as a mentor to new and emerging professionals across the state of Massachusetts by teaching in a graduate program at Salem State University.  His engagement with those new professionals has helped foster the next generation of Student Affairs leaders and contributes to our greater field.
Because of all the work Kevin does both on our campus and off, I believe Kevin is truly deserving of the Pillar of Mentorship award.
Spotlight:
What do you love most about working at Stonehill College?
I started my career at the University of Notre Dame and coming to Stonehill allowed me to rejoin an institution founded in that same Holy Cross tradition.  Father Moreau, the founder of the Congregation, famously stated that we should not educate the mind at the expense of the heart.  This emphasis on the education of the whole person not only resonates with me as an educator, but validates the important work that we do in student affairs each day.  We have a wonderful community of faculty, staff, and students here at Stonehill that are dedicated to helping develop graduates think, act, and lead with courage toward the creation of a more just and compassionate world.  I can think of no better mission to guide, inform, and inspire my work.
When you aren't working, how do you spend your free time?
I am currently completing my PhD dissertation so much of my free time over the last several years has been dedicated to completing classes and conducting research.  Though I am happy to be finishing my degree this semester, I am appreciative of the opportunity I have had to learn with and from an amazing cohort as we explored current issues in higher education and the role we can play as future leaders.  I have found throughout my career that my day to day work life does not leave much time to be as reflective on my practice as I would like and this has been a great opportunity to be able to do so in a very structured way.  Outside of work and school, I teach in the HESA program at Salem State University, spend time with friends and family, attend as many sporting events and theater productions as I can, and binge watch an embarrassingly large number of shows on Netflix.
Who inspired you to get involved in Higher Education?
As a student at Catholic University, I had wonderful student affairs mentors who challenged and supported me throughout my time as an undergraduate.  Not only were they critical guides in my own personal and professional development, but they inspired me to want to play a similar role in the lives of others and to pursue a career in higher education.  Alan Goodman, the Director of Career Services where I worked for four years, Tom Ellet, the Director of Residence Life where I was a resident assistant, and a number of other student affairs professionals were incredible educators who modeled a commitment to students and the field that I continue to use as an aspirant benchmark in my own work.
What is the most valuable lesson you have learned in your career (so far)?
Early on in my graduate assistantship, I was assigned a mentor in residence life and this relationship has taught me how important mentors are for a successful career.  My own growth and professional development in higher education and student affairs would not have been possible without the support and guidance of mentors who have helped me navigate the field and my career.  Recognizing this, it is incumbent upon all of us to not only find mentors in our work, but to provide mentorship to others as they enter the field as well.  It is a wonderful way to positively impact the professional development of a colleague and to give back to the field.
What is on your Higher Ed bucket list?
I would like to someday have an opportunity to lead a student affairs division as a Vice President and chief student affairs officer.
What advice would you offer to new professionals who are starting their first professional position?
A career in student affairs often provides numerous opportunities to get involved in other aspects of the institution and while I value the importance that many place on work/life balance, I always encourage new professionals to never say no to opportunities that present themselves.  Teach first-year seminar, join that committee, attend that event, and never miss an opportunity to collaborate with someone in a different department or division.  Not only will this expose you to others on campus and help build your resume, but it will help you hone critical skills and develop a deeper, more nuanced understanding of higher education in general and your institution in particular.