Meet Garret Zastoupil!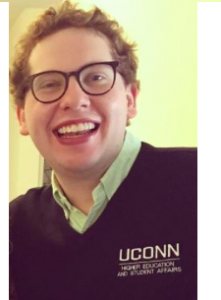 Where are you working right now?
I serve as a Graduate Assistant in the Office of Fraternity and Sorority Life at UConn. I just completed a spring practicum at Husky Sport a Campus-Community Partnership!
What do you love about working there?
I really love the student leaders that I get to work with in my role. I have the opportunity to really support the entire student through this role as they learn more about themselves through their leadership position. I also love the freedom I have from my team to innovate and alter or create new programs to better serve students.
When you aren't working, how do you spend your free time?
Free time for me is almost a foreign concept, but when I have do have some, I enjoy explore different towns throughout New England, I'm a big fan of bookstores so I'm always looking for the next shop to create a day trip around. On a smaller level, I love trying new restaurants with my cohort mates as a way to get a break from work and class.
What is your favorite grad school class and why?
Law, Ethics, and Decision Making in Student Affairs has been my absolute favorite class. It was rigorous yet also incredibly reflective and grounded equally in understanding  the law and refining personal ethics entering the profession. Additionally, this class challenged me to think critically about  the history of higher education and current policies as it relates to equity and access and the gaps that exist today, along with the work I need to do to better serve all students and be an effective practitioner.
Who inspired you to get involved in Higher Education?
I served as a student worker starting my sophomore year, at that time I was hugely impacted and inspired by the folks I worked with- our Graduate Assistants, Director, and Associate Vice Provost for Student Affairs. These folks had a deep care for the institution and their students and were willing to take risks and advocate for their students on a daily basis. That passion for students along really inspired me to look critically at student affairs and propelled me to where I am today.
What is the most valuable lesson you have learned in your career (so far)?
The importance of being intentional and outcomes driven in our programs and interventions. Through the year long assessment course as part of the UConn HESA curriculum, my team and I studied a program that had existed for 30 years, but came to learn that the purpose of the intervention had become diluted and no longer focused on outcomes. I learned how easy it is to do the same thing year-in and year-out to the point were students are no longer benefiting from the program.
What is on your Higher Ed bucket list?
An experience that looks at social justice and equity in higher education from an international contexts. I hope to better understand how institutions globally deal with their collective histories and current issues of privilege and oppression that impact students experience today.
What advice would you offer to undergraduate seniors who are starting to search for grad programs?
Figure out what is important to you and build a criteria for a grad school search around that. One of the biggest mistakes I've seen folks make is that they apply to programs either based on solely on reputation or because they "know' they can get into a program. Pick potential programs based on how well the fit into your needs and assure they are graduate programs you actually want to attend!