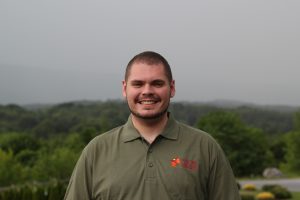 Matthew Denham, Graduate Student Liaison
Current Title and Institution: Associate Director of Campus Life for Student Engagement at Montserrat College of Art
What do you do as the Associate Director of Campus Life for Student Engagement?
I am responsible for orientation, student programming and leadership development.
What do you love about working at your current institution?
I am new to the institution but I already love how friendly and welcoming all the staff, faculty and students have been.
How did you get involved in the New England College Personnel Association (NECPA)?
While in graduate school I didn't know a whole lot about ACPA so I attended a social hosted by NECPA to help me get a better understanding of what the ACPA conference was and who was going from our region.  After that I stuck with the NECPA group and attended their geo-socials while in ACPA as well as their drive in conference.
When you aren't working or focusing on your NECPA role, how do you spend your free time?
In my free time I am either at the movie theater or out trying to find something fun to do with my girlfriend.  I also do like to run but that is typically before I go to work, not as much during my "free time".
Who inspired you to get involved in Higher Education?
The individuals who really got me inspired to go into higher education were my first advisers and supervisors while at Anna Maria College, Sarah Brethauer Johnson and Brian Quinlan.
What is the most valuable lesson you have learned in your career (so far)?
The most valuable lesson I have learned so far is to make sure I respect my work-life balance.  While I feel I am still very early into my career I believe I need to find the appropriate balance for myself being a new professional.
What is on your Higher Ed bucket list?
I can't say I have much yet on my higher ed bucket list being so fresh into things besides getting the mentorship program going for NECPA (for now of course!)
Why should professionals in New England get involved in NECPA?
I believe professionals should get involved with NECPA because it is a growing chapter of ACPA and I think it really has the potential to offer a variety of resources to the whole New England area where we can all benefit from the experience of each other.