Meet Courtney Trahan!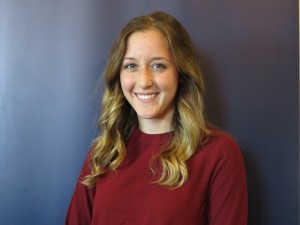 Where are you working right now?
I am currently working as a Graduate Assistant in the Center for Student Leadership Development at the University of Rhode Island.
What do you love about working there?
It has been an awesome experience working in a center that offers a variety of programming coupled with an academic minor. I have learned so much about what leadership means in all sorts of settings. Now I am able to ground leadership in theoretical models and I have discovered what it means to lead with my strengths. I also get a lot of student interaction, which is ideal. Our office runs a peer leadership organization, has an outdoor challenge course, and offers a selective orientation-style leadership development program for first year students right before they come to campus – all of which have added to this unique experience. The students and staff are inspiring and driven but also love to have a good time, so it is great to be in a work environment that is as productive as it is fun.
When you aren't working, how do you spend your free time?
Free time has become especially precious to me in graduate school, and I like to try to spend it with family or friends, or doing something adventurous. I love to kayak, hike, and be outside, so I am really excited about the weather getting warm again! But a free time adventure to me could even be something smaller like visiting a park I've never been to or trying out a new bike path. I was born and raised a New Englander, so it's always fun to visit different places, watch sporting events, explore, and try out the restaurant scene (big fan of breakfast foods). There's a lot of variety through the states – we're so lucky to have ocean and mountain accessibility, and I have always tried to take full advantage of that.
What is your favorite grad school class and why?
Although I am currently in my first year, so far I have enjoyed the concepts in Group Procedures and Leadership because it couples well with what I do in my assistantship. Additionally, I am very people-oriented, so no matter how I navigate my careers in the future, I know I will always need to be in a position where I am able to have a lot of interaction. With that, I think understanding group development is extremely important.
Who inspired you to get involved in Higher Education?
For me it might be less of a "who" and more of a "what." Like a lot of my peers in higher education, I was extremely involved as an undergraduate and I was enjoying how it kept me busy, allowed me to meet new people, and it was always fun. When I reached senior year, I realized that I can make a career based in all my co-curricular involvement. I was an English Communications major very interested in working with professional sports, and while I absolutely loved what I was studying, I think I was most inspired by what I was doing on campus.
What is the most valuable lesson you have learned in your career (so far)?
To remember that there are new things to learn every day and to remember that you are where you are for a reason. Someone hired/accepted you, or brought you to their team, because they saw your value and potential. Graduate school has been a difficult transition – between working and classes I can be on campus for up to 10-12 hours a day, which can be tiring when I live off campus. Through the times where I feel stressed or frustrated I continue to tell myself I'm part of my cohort and teams for a reason.
What is on your Higher Ed bucket list?
I love bucket lists and I am always adding to it, so that is tough to choose! As of now a definite short term goal is to be a professional lead on an Alternative Spring Break trip. Service has always been an important value to me and I love to immerse myself in new cultures, so it'd be a great opportunity to use my leadership skills, work with others, and broaden my perspective. Long term, I would be interested in a pursuing a doctorate or a second master's degree in a specialized field depending on where I end up career-wise.
What advice would you offer to undergraduate seniors who are starting to search for grad programs?
Be open and do research. Finding a curriculum and staff that are a fit is imperative, but there are a lot of other factors to consider too. Visit and explore the culture of campus. Does the mission of the program fit your goals? Are you interested in having a cohort model? Is location important to you? Graduate school can be stressful between jobs, internships, and homework, so I think being able to have those outlets is what will keep you productive!