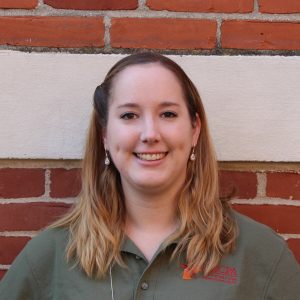 Jessica Smith
Massachusetts State Coordinator
Current Title and Institution:
Complex Coordinator at Worcester Polytechnic Institute (WPI)
What do you do as the Complex Coordinator?
As a Complex Coordinator I supervise a staff of 18 RAs, and oversee 700 residents in a combination of 2 first year buildings, and 3 upperclassmen apartments.
What do you love about working at your current institution?
I love the student population at WPI, the STEM population is a unique student dynamic and our students at WPI are very academically driven, and are very involved on campus. This creates a wonderful campus community.
How did you get involved in the New England College Personnel Association (NECPA)?
I got involved back in April of 2017 when a former supervisor (and our current NECPA President) told me about the organization and shared that there were opportunities to get involved. I've attended conferences in the past, and like that NECPA is a smaller organization with opportunities for involvement.
When you aren't working or focusing on your NECPA role, how do you spend your free time?
I love pop culture. So most nights and weekends you can find me binge-watching shows on Netflix or Hulu. I also love going out to eat with my friends and family.
Who inspired you to get involved in Higher Education?
When I worked in the Residence Life office at my undergrad institution Framingham State University, I had the opportunity to work with some wonderful higher education professionals. Glenn Cochran, Jay Hurtubise, Kim Dexter, and Johnny Hurley all helped me find my passion for working with students and showed me that a career in Higher Education is possible.
What is the most valuable lesson you have learned in your career (so far)?
The most valuable lesson I have learned is that we need to support our students in all aspects of themselves, not just the aspect we directly supervise. We need to support them as student leaders, as students, and as people.
What is on your Higher Ed bucket list?
I want to take my next step, and shift gears from Residence Life to Career Development.
Why should professionals in New England get involved in NECPA?
I think New England professionals should get involved in NECPA because it is a smaller organization and executive board with more meaningful involvement opportunities.